During spring semester 2019, the Godine Library received a gift of four hand-painted artist's books by Deborah Boardman (MassArt BFA 1981). Boardman passed away in 2016 and her husband, Joe Ferguson, was eager to have some of her work return to the institution where Boardman first began exploring her artistic voice. Boardman received her MFA from Tufts in 1987 and promptly moved to Chicago, where she taught painting at the School of the Art Institute of Chicago and created work that was exhibited around the world. Her artist's books are in the collections of Brooklyn Museum of Art, Museum of Modern Art, Harvard University, Boston Public Library, and now the MassArt Library.
The four books added to the Godine Library collection are: Book of Faults, Girlsongs, Magnetism, and Remedies. Images can be found on her website: http://www.deborahboardman.com/artistBooks.html
Book of Faults, Girlsongs, and Magnetism will be on exhibit in the Godine Library through September 2019. All works are available by request for viewing. They are most powerful when you get to turn their pages.
Book of Faults
(Some of Yours, Some of Mine), unique painted book, gouache and collage, 2010, 23.5" x 34" (open)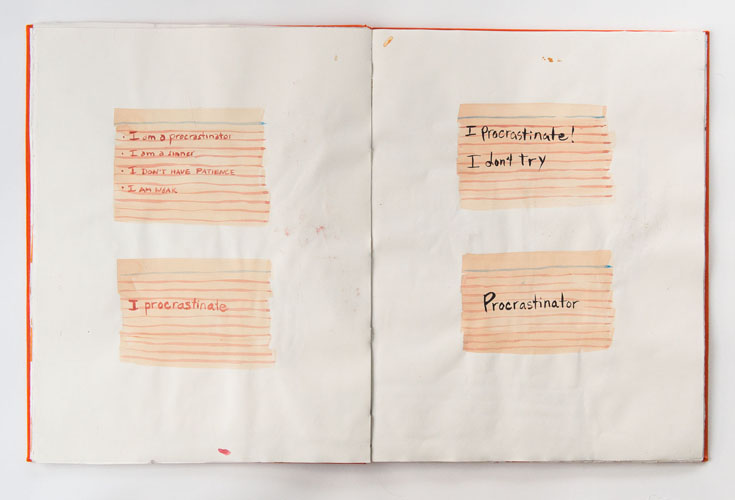 As a part of the installation A Porous Project II at the gallery at DuPage University, Book of Faults is a deeply personal and relatable investigation of insecurities. In it she paints what seem to be confessional flagellations on index cards. Paired with colorful starbursts or dream catchers the effect of the text isn't really sad but rather affirming. They remind us that we all share similar struggles and it is these insecurities that make us human. Of the Porous Project II, Boardman writes: "in humans, it is through our weaknesses that we connect with each other and create community."
Girlsongs
1997, Unique Painted Book, Gouache on Paper, and monoprint, 27" x 39" (open)
Girlsongs, like Boardman's Dream Book which is in the collection of the Illinois State Museum, has a more refined production technique and as such represents another facet of Deborah's bookmaking practice. They are less notebook-like and more narrative in nature.
With its ethereal text overlays and massive size, Girlsongs feels like a precious object.
Magnetism
2013, Unique Painted Book, Gouache on Paper, 16" x 23" (open)
Magnetism is the most abstract and decorative of the four books. It's bold and messy and beautiful. It will likely be the hardest to teach with, as I have not yet developed a narrative to connect it to MassArt curriculum or the Godine Library collection, but aesthetically it was the book that I was immediately drawn to.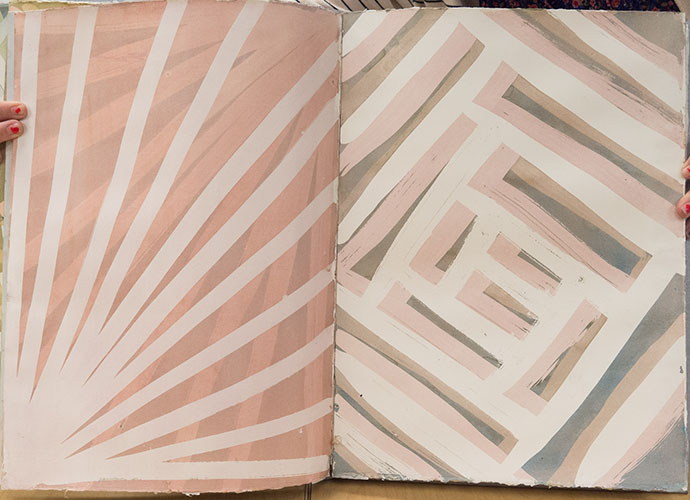 Remedies
2009, Unique Painted Book, Gouache on Paper, 16.5" x 27.5" (open)
Remedies is almost a cross between an artist book and an artist's journal. Or perhaps it is an artist book about artist's journals.
Either way it is delightful look at the artistic process.